How do you do, fellow kids
In which I put together a really bleak playlist.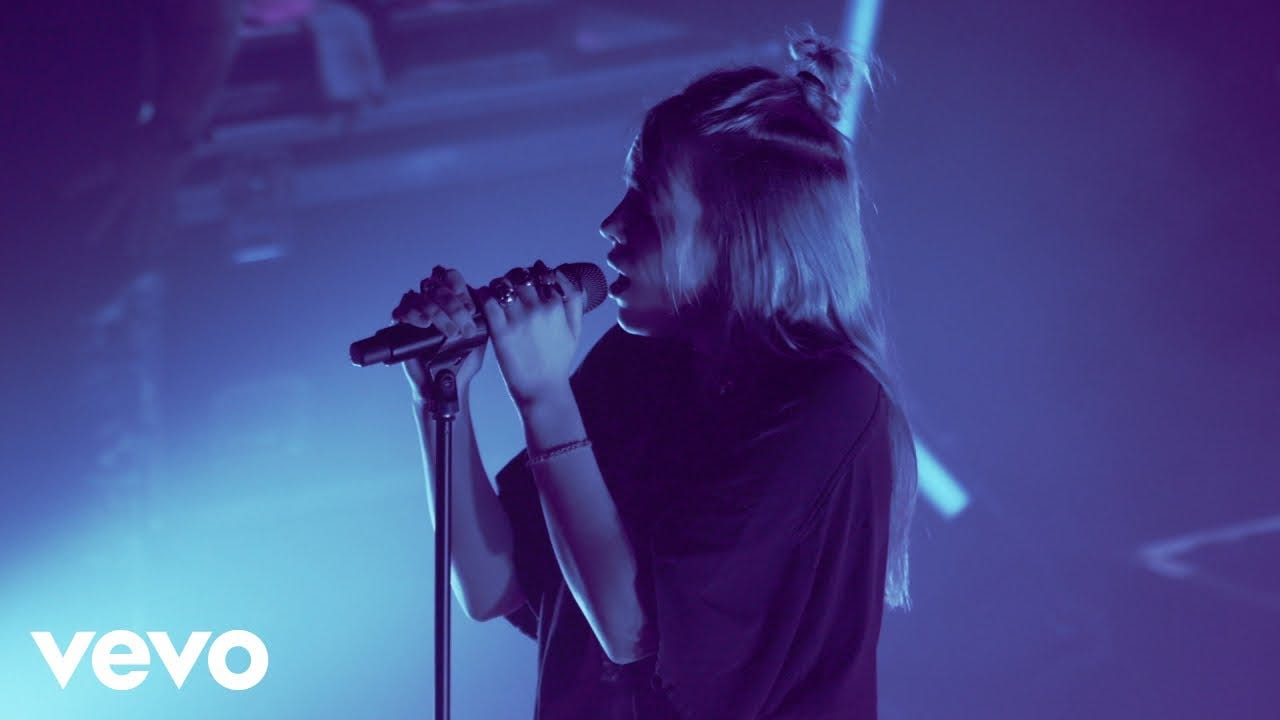 When I started this newsletter, I made a point of writing about theater, Housewives, and horror in every single post, a decision some would call ambitious and others would call unhinged. I've had to scale back because of work obligations and my emotional wellbeing, but I've also gotten a little bit looser when it comes to what I cover here. Which is my unnecessarily defensive way of saying you're about to read some of my thoughts on popular music.
Are you OK? Did you brace yourself? (I should have told you to brace.) I don't write about music that isn't showtunes very often, because, well, I'm not all that good at it. I mean, I'm fine, but it doesn't come to me naturally, and writing about music is seriously daunting. However, since we've somehow reached the end of another year — and because I already faced my demons and did some year-end content — I've decided to jot down a handful of songs that I listened to far too many times in 2019. I present these to you IN NO PARTICULAR ORDER. Caps for emphasis, because I really can't stress that enough.
Anyway, here are some 2019 songs I liked!
Billie Eilish, "wish you were gay." I said this list was in no particular order, but in this case I absolutely lied, because "wish you were gay" was far-and-away my most listened to song of the year. Should I feel concerned that I spent so much of 2019 overidentifying with a 17-year-old girl? Perhaps, but let's not unpack that! This is my favorite Billie Eilish song, in part because it's clever as fuck. The countdown in the lyrics is legitimately brilliant, and few lyrics have struck me to my core like "Our conversation's all in blue / 11 Hey's." SORRY I'M A MILLENNIAL.
Billie Eilish, "when the party's over." OK, yes, one more for Billie. I dressed up as her for Halloween, so you know she was my personal artist of the year. This song just makes me really sad? But like, in a fun way. If we're talking about lyrics that wrecked me, I'm quite fond of "call me friend, but keep me closer," a gutting summation of too many of my adult relationships. Nervous laughter!
Jenny Lewis, "Heads Gonna Roll." My actual longest relationship is with Jenny Lewis, my forever love. I named my first five iPods after her. (They broke pretty easily.) (I named the sixth one after Conor Oberst.) On the Line is really such a phenomenal album, and the opening track is one of my all-time favorite Jenny songs. Heads are gonna roll, you know? And furthermore, a little bit of hooking up is good for the soul. She knows her shit, is all I'm saying!
Lana Del Rey, "Norman Fucking Rockwell." Oh my god, this album. This album. With no disrespect to Billie (my most listened to artist of 2019) and Jenny (my most listened to artist of… well, ever, probably), Lana Del Rey was my most listened to artist of the 2010s, and the staggering perfection of Norman Fucking Rockwell! made me feel smug as hell about that. I can't really pick a favorite song, but if I have to, it's the title song. (I mean, it's sort of tied with "Mariners Apartment Complex" and "Venice Bitch," but those were released in 2018!) "Why wait for the best when I could have you?" gives me chills every time. Take that, person the song is about!
Lizzo (feat. Missy Elliott), "Tempo." To be honest, my most listened to Lizzo song this year was "Juice," and like, that is a completely valid choice, but it's also kind of obvious. And while "Tempo" is probably also pretty obvious, you can deal. I appreciate that Lizzo's lyrics aren't generic body positivity but specific celebrations of thickness (even as I acknowledge that I, not a skinny hoe, gravitate toward slow songs). Also, I made it through the whole year without seeing a white twink with a slightly larger than average ass post a thirst trap with the caption "I'm a thick bitch, I need tempo," and hello, let's celebrate that.
Carly Rae Jepsen, "Too Much." I don't know, I just feel like Carly gets me. My favorite CRJ song (currently) is "Your Type," which she wrote about a few of my ambiguous relationships, so I was delighted when she returned to the subject to write "Too Much." Would I say that I live for the fire and the rain and the drama, too, boy? I would not. Would I say that I'm too much? I mean, absolutely.
Taylor Swift, "Lover." My only beef with this song is that leaving the Christmas lights up till January is a completely normal thing to do, and I refuse to allow Taylor to gaslight me into thinking it's not. Anyway, this whole album is pretty stunning, I think. Eventually even the bad songs started to be good. "Lover" is the standout, a song that doesn't make me feel like I'm in love, but does at least suggest that being in love would be nice!
Normani, "Motivation." Easily the most addictive song on this list, I dare you to listen to "Motivation" just once. It is the Pringles of pop songs, and I'll let you fill in the rest of that analogy. Sometimes I need to listen to songs that don't make me want to lie down and stare at the ceiling for six hours, OK? Of all the albums coming in 2020, I might be most excited about Normani's, though I question my ability to get through it without trying to play every track on repeat.
Caroline Polachek, "Caroline Shut Up." This was a really tough call for me, in the sense that "So Hot You're Hurting My Feelings" is a) the Caroline Polachek song I listened to the most this year, and b) intensely relatable. But "Caroline Shut Up" has grown on me to the extent that I'm low-key thinking of changing my name to Caroline. There's just something so visceral about telling yourself to shut up! Who among us. "Now you got me jealous and I'm not the jealous type" is my favorite lie.
Tove Lo, "Jacques." We are never appreciating Tove Lo as much as we should be. "Disco Tits" was my song of 2017, and Sunshine Kitty should have gotten so much more love than it did in 2019. Again, I'm glad I found a few more songs that make me want to dance instead of weep. (I don't dance, but how nice to have the option!) This is my favorite track on the album, though they're all — if I can be so bold — bops. She's fun, she's filthy, she's fucking Tove Lo, you gays.
Ariana Grande, "break up with your girlfriend, i'm bored." I never feel like I'm stanning Ariana Grande the way that I should be. Like, I enjoyed thank u, next — way more than Sweetener, sorry! — but it didn't resonate with me the way the other albums on this list did. And that's OK! I am glad you all love her enough for both of us! That having been said, I listened to this song 8,000 times on a loop, and I regret nothing. The best part? Every time you stream it, Kandi Burruss makes money. Praise her.
Photo via Darkroom/Interscope Records.