Sparkle, Judy, sparkle
In which I celebrate National Coming Out Day by rambling about Judy Garland.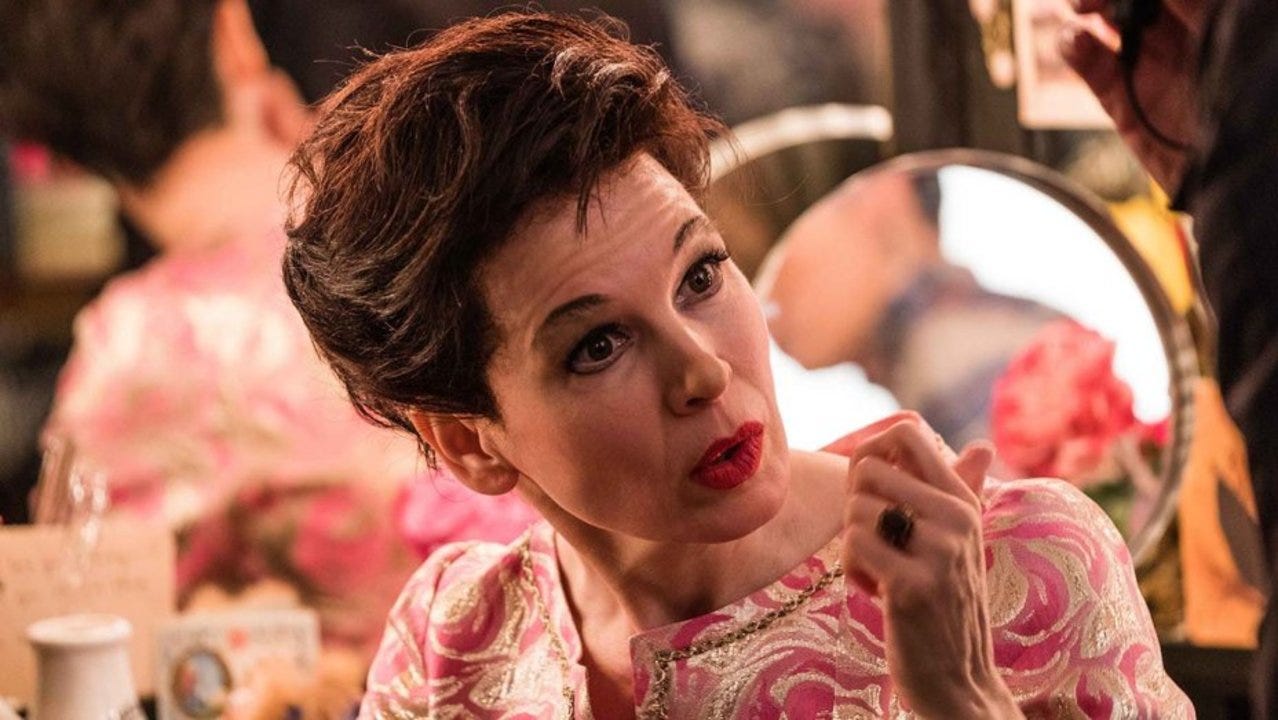 When I was in Millburn, New Jersey on Sunday to attend the opening of Chasing Rainbows: The Road to Oz at the Paper Mill Playhouse, I wandered around the town a bit and saw that the local movie theater was playing Judy. I wondered if anyone had made a point of trying to see both in one day, thinking that they might serve as fitting bookends to one another — one the story of how Frances Gumm became Judy Garland, the other a portrait of Judy's swan song. Now that I've seen both, I do think they make a perfect double bill, but also an unbearably bleak one. Both Chasing Rainbows and Judy depict the dark side of Judy's origin story: the relentless criticism of her looks and weight, the cruelty of the adults in her life, and the pills that were forced on her and which became a lifelong addiction. The creation of Judy Garland and the destruction of Judy Garland are the same story.
Judy is about the last year of her life, so you know where it's going. Chasing Rainbows has a slightly more optimistic end point, culminating in the triumph of Judy (Ruby Rakos) convincing Louis B. Mayer (Stephen DeRosa) to let her play Dorothy Gale on her terms. But that's only after we've witnessed the dismissive and degrading comments about her body, not just from the studio, but from her mother, Ethel (Lesli Margherita). That she's able to convince Mayer she doesn't need a blonde wig or an infantilizing outfit to star in The Wizard of Oz, that her "girl next door" appearance is actually her greatest strength, is something of a hollow victory, particularly given what we know about the effect Judy's childhood had on the rest of her too-short life. Chasing Rainbows walks an interesting line tonally, in that it's sunnier than Judy but with a real and persistent darkness just under the surface.
While Judy focuses mostly on the London concerts that Judy (Renée Zellweger) did shortly before her death, the film also flashes back to those same teenage years, with Darci Shaw slipping on the ruby slippers. These scenes are some of the movie's weakest, but they do provide an interesting counterpoint to what's portrayed in Chasing Rainbows. Here, Louis B. Mayer (Richard Cordery) is an even more oppressive force in young Judy's life. The studio's fixation on her weight — and the use of pills to keep her from eating, with more pills to help her sleep — is trauma that she will carry with her for the rest of her life. The Wizard of Oz becomes something of a symbol, the moment at which Judy decided to sacrifice her childhood (and, really, any chance of lasting peace) for stardom. It's not much of a choice, Judy suggests, when the only love Judy can consistently rely on is the love she gets from her fans. It's fitting that both the film and Chasing Rainbows end with "Over the Rainbow," a bittersweet coda reflecting a happiness that's just out of reach.
Biopics (and bio-musicals) often try to take on too much and end up collapsing under the weight of their scope. Judy and Chasing Rainbows both benefit from their limited focus; they are more interested in what one part of Judy's life reveals about the rest of it. At the same time, they complement each other well, along with whatever knowledge and emotional attachment to Judy we bring to them.
Case in point: The best scene in Judy has Garland spending a night with two of her most devoted fans, a gay couple — she calls them her "allies." It's a moving nod to Judy's enduring status as an icon to her gay fans, and it also showcases the way gay men have always been her most loyal supporters, both in life and after. (There's a reason we're called friends of Dorothy.) But there's a moment when Judy learns how one of the men was jailed for obscenity, and realizes how much they have endured. It made me think back to Chasing Rainbows, which depicts the persecution Judy's father, Frank (Max von Essen), faced for his sexuality, and the way that nearly destroyed the Gumm family. The added context, alluded to in Judy when Mayer refers to Judy's father as a faggot, adds poignancy to an already affecting scene.
Because the movie and the musical are limited by design, they can't fully capture who Judy was, which might disappoint Garland devotees. Ultimately I enjoyed both for what they were, mostly for the strong performances that carry them. Chasing Rainbows has an exceptional cast all around, with Rakos leading the pack: her voice is remarkable, and she manages to evoke Judy without trying too hard to mimic her. In Judy, it's all about Zellweger, who will almost certainly win the Oscar she deserves for her uncanny portrayal of Garland. At the risk of repeating what so many critics have already said, it's a truly transformative performance — by the end of the film, she has essentially become Judy. No, she doesn't sound like her when she sings, but she looks and, more importantly, feels exactly like her. That's the truest tribute anyone could hope for.
Photos via LD Entertainment and Evan Zimmerman for MurphyMade.